Inflation is a critical economic indicator that measures the rate at which prices for goods and services rise over time. Understanding the inflation rate is essential for policymakers, investors, and individuals alike, as it directly affects purchasing power and the overall health of an economy. In this article, we will delve into the inflation rate in Puerto Rico, focusing on the data from May 2023. By examining the overall inflation rate and the top and low inflation categories, we aim to gain insights into the current state of Puerto Rico's economy.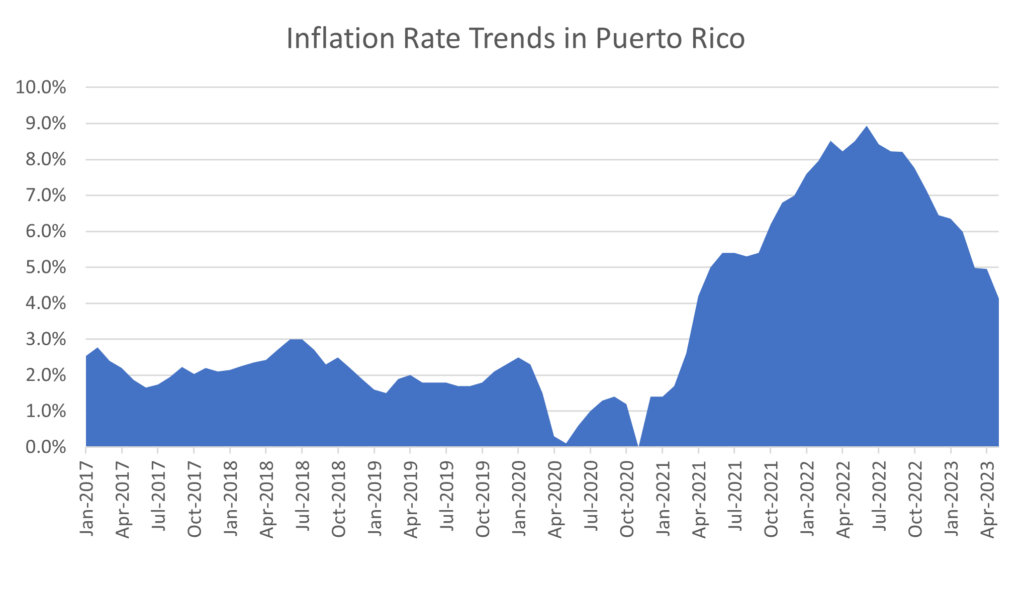 Overall Inflation Rate in May 2023:
According to the latest available data, the inflation rate in Puerto Rico for May 2023 stood at 4.1%. This figure represents a decrease from the previous month's inflation rate of 5.0%, indicating a slight moderation in price increases. However, it is important to analyze this inflation rate in the context of Puerto Rico's specific economic circumstances.
Top Inflation Categories in May 2023:
Among the various categories contributing to the inflation rate, specific sectors experienced higher price increases in May 2023. Based on the data provided, the top inflation categories for this period include eggs (33.2%), other foods (18.9%), and materials for drinks (18.0%). These categories witnessed notable price surges, potentially driven by factors such as supply chain disruptions, increased demand, or other market dynamics.
Low Inflation Categories in May 2023:
While some sectors experienced significant price hikes, other categories exhibited relatively stable price levels. The low inflation categories for May 2023 encompassed. These sectors saw minimal changes in prices, indicating a relative level of stability.
Analyzing the inflation rate in Puerto Rico for May 2023 sheds light on the current economic conditions in the region. With a decrease in the overall inflation rate compared to the previous month, Puerto Rico's economy may be experiencing a slight moderation in price increases. Policymakers and stakeholders can make informed decisions to support sustainable economic growth and stability in Puerto Rico by monitoring inflation and understanding its underlying factors.