In Puerto Rico, the Consumer Price Index (CPI) stood at 124.581 in March 2022, an increase of 5.1% compared to March 2021. This is the largest year over year increase seen in the CPI since May 2008, when it increased by 4.8%. This is the 21st consecutive month with an increase relative to the previous month.
The CPI rose 0.8% between February and March, the highest since January 2018.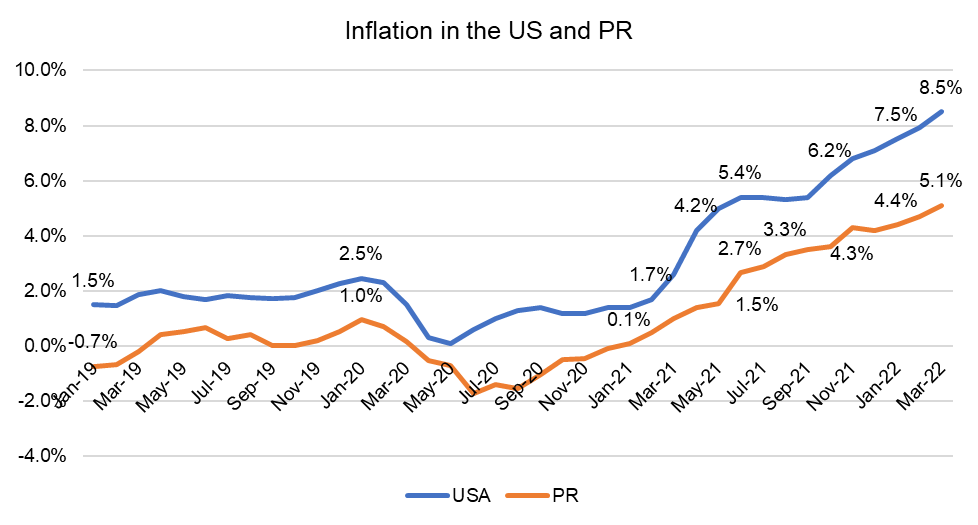 Source: BLS, Department of Labor
The rise is due to the increase in the price of fuel, electricity, and food (mainly oils, meat, poultry, fish, eggs and cereals). March is the first month that collects the results of the Russian invasion of Ukraine. Inflation was at 4.7% in February.
Prices began to rise in March last year, mainly driven by energy prices.
In 2021 inflation closed at 2.4%, the highest since 2011 (2.9%), after having been negative (-0.5%) in 2020, the first time that annual inflation was in negative territory since 2016.
Inflation by Category
| Category | March 2021 vs March 2022 |
| --- | --- |
| All Items | 5.1% |
| Food and Beverages | 7.4% |
| Food | 8.2% |
| Food at Home | 9.1% |
| Poultry | 17.3% |
| Meats, poultry, fish, and eggs | 13.1% |
| Fats, oils, and dressings | 23.2% |
| Food away from home | 6.5% |
| Housing | 2.4% |
| Lodging Away from Home | 23.4% |
| Household services | 7.3% |
| Apparel | 0.1% |
| Footwear | -4.1% |
| Transportation | 9.4% |
| Motor Fuel | 30.8% |
| Medical Care | 1.6% |
| Recreation | 1.5% |
| Education and Communication | 1.7% |
| Education | 3.4% |
| Other Goods and Services | 2.9% |
Source: Department of Labor