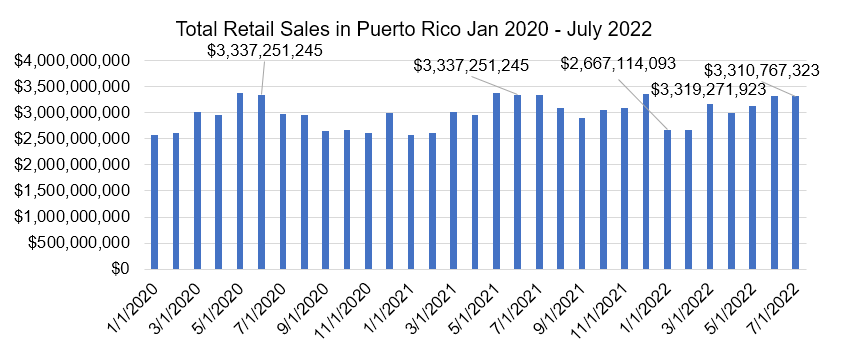 Source: Puerto Rico's Trade and Export Company
Retail Sales for the month of July 2022 reached $3.3million. When compared to July 2021's total retail sales figure, this represents a 0.6% diminution. When compared to June 2022, there is a 0.3% decrease shown in retail sales.
This represents the third year-over-year reduction in the retail sector. Said reduction could be the result of the stoppage of federal funds into individuals' pockets directly, since consumers all around now count on a smaller budget for their personal expenses. It should be noted that retail sector company owners were previously warned that consumer tendencies could in fact take their current course, therefore the blow that the industry might be taking right now should be mitigated by company savings or any other expense mitigation method adopted by the owners.
Another important factor influencing current retail sales figures and trends is the war effects on the distribution chain on a global scale. As mentioned in the Department of Economic and Commerce Development's report, this problem has resulted in price inflation due to both producers' and consumers' inaccessibility to get their merchandise delivered.
The saturation of the distribution chain problem has simultaneously had its direct effects on Puerto Rico's fuel market and, consequently, its electric energy costs. Ultimately, Puerto Rican consumers are confronting a reduction in their personal consumer expenses, which accounts for retail sales contraction during the last couple of months.