The Economic Activity Index (EAI) registered a -0.6% decrease in October 2022, a -1.0% decrease in November 2022 and a 0.6% increase in December 2022 when com- pared to the same month in 2021.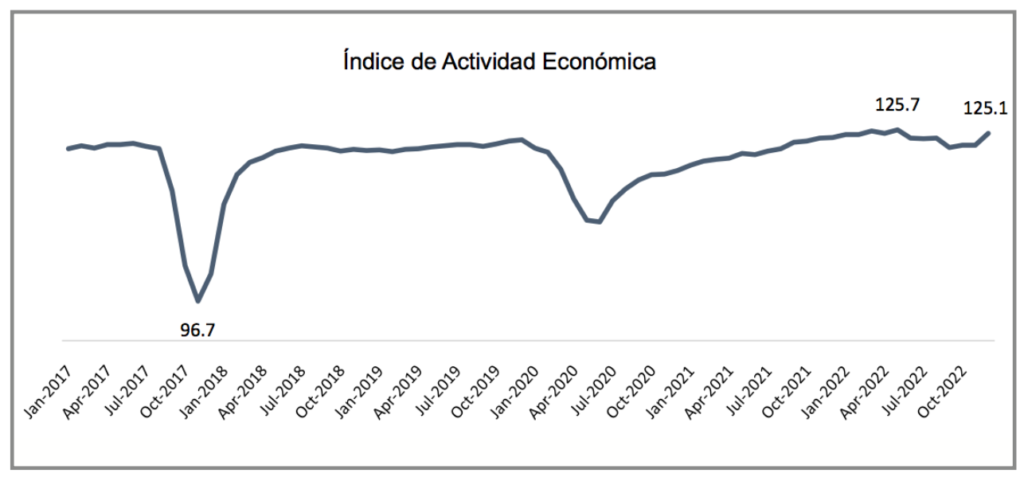 As for the sub-indexes:
• Total non-farm payroll employment averaged 928,800 jobs in December; which represents an increase of 0.2% in a m-o-m basis, and annual increase of 3.7%.
• Electric power generation for December 2022, totaled 1.49 billion kWh, a -1.3% decrease in a m-o-m basis, and an annual fall of -6.4%.
• The preliminary partial estimate for gasoline consump- tion in December 2022 totaled 70.0 million gallons, -6.2% below the 74.7 million of gallons estimated for November 2022 and a drop of -5.1% when compared to the same month from the previous year.
• Cement sales totaled 1,306.3 million of 94lb. bags for December 2022, with an increase of 12.8% in a m-o-m basis, and an 8.2% growth when compared to December 2021.
During fiscal year 2021, the EAI decreased by -0.8% when compared to fiscal year 2020, but increased by 4.5% during fiscal year 2022. Moreover, a preliminary increase of 1.8% was registered during calendar year 2022, after an increase of 4.7% during calendar year 2021.