The consumer price index which calculates inflation, the increase in prices, was 128.66 for the month of May 2022, this is a 6.4% increase compared to May 2021, and a 0.5% increase compared to April 2022.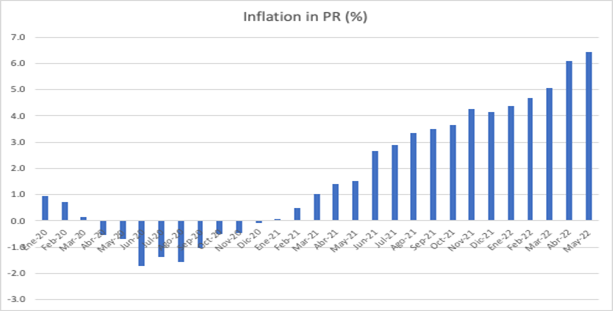 Food and Transportation are the industries that have the most influence on the total inflation in the island due to having the largest amounts of inflation overall. Food and Beverage had a 9.1% of inflation compared to last year, and a 0.9% increase when compared to the previous month. Also, transportation saw an over the-year inflation of 12.3%, and an over-the-month inflation of 0.9%.
The prices for the goods that the food and beverage industry provide have been almost consistently increasing over the past few months. When comparing the CPIs to last month's there were only two categories that saw a decrease in prices, those were other foods (-0.2%) and food away from home (-0.2%). The categories with the largest over-the-month inflation in the industry were sugar and sweets (1.0), fats, oils, and dressings (0.8%), and fruits and vegetables (2.3%). Interestingly the category for alcoholic beverages saw no change at all in prices when compared to April.
Over-the-year, cereals, and other food both saw a change of about 14% in prices; meats, poultry, fish, and eggs had 15.4% of inflation and finally fats, oils and dressings saw an increase in prices of 24.9%.
The prices for transportation have been consistently rising this year because of the inflation in prices of motor fuel; when compared to the CPI of May 2021 there has been an inflation of 40.6% and compared to April there was a 4.6% increase. Curiously the cost for public transportation has deflated -11.5% from the previous month but increased 29.2% over-the-year.
The consumer price index has been increasing since the beginning of the year, so goods and services are more expensive now than they were last year. The rise in motor fuel or gas prices has had a really big impact on this, since goods provided to the public have to transported around the island and even imported into the island; it makes everything more expensive for everyone involved in providing and consuming.