The economic landscape of Puerto Rico has witnessed notable shifts in the manufacturing sector, with significant changes observed in the numerical indicators. By examining the specific figures and their variations from one year to another, we can gain valuable insights into the performance of this industry and identify opportunities for future growth.
Within the manufacturing sector, there was a marginal decline in the Purchasing Managers General Index, from an average of 54.08 in 2022 to 53.73 in 2023. Although this dip may raise concerns, it is essential to consider the broader context in which these numbers emerge. The sector has demonstrated commendable resilience, recovering from the aftermath of previous challenges, such as natural disasters and economic downturns.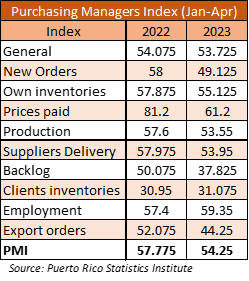 For a more in-depth analysis of this topic and others, subscribe to our portal.