In the third quarter, the U.S. economy exceeded growth expectations, driven by a strong consumer base, despite the challenges of higher interest rates, ongoing inflationary pressures, and a variety of domestic and global economic challenges.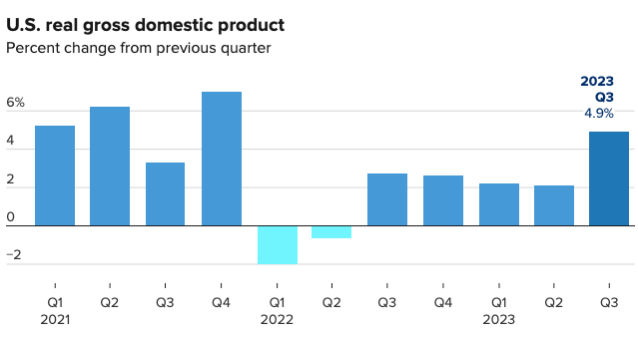 The Commerce Department reported that the Gross Domestic Product (GDP) experienced a seasonally adjusted annualized growth rate of 4.9% from July to September (Q3 2023). This marked a substantial improvement from the unrevised 2.1% pace observed in the second quarter.
Consumer spending, as gauged by personal consumption expenditures, increased by 4% in the quarter, a significant uptick from the 0.8% rise in the second quarter. This increase played a crucial role, accounting for 2.7 percentage points of the total GDP growth. Inventories also contributed significantly with 1.3 percentage points. Gross private domestic investment surged by 8.4%, and government spending and investment increased by 4.6%.